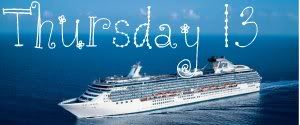 Thirteen Pieces of Cruise Ship Lingo




Do you know your starboard from your aft? :)

1. Always refer to your vessel as a ship not a boat.
2. The ship is always female. It's a "she" or a "her"
3. "Port" refers to the left side of the ship.
4. "Starboard" refers to the right side of the ship.
5. "Aft" refers to the rear or back of the ship.
6. "Bow" refers to the front of the ship.
7. A ship has decks not floors.
8. A ship has staterooms not rooms.
9. "Tender" is the vessel that you take to and from the shore when the ship is at anchor in a port.
10. The "bridge" is the place where the Captain and his crew steer the ship.
11. The "brig" is the ship's jail.
12. It is a "Purser's Desk" not an Information Desk or a Front Desk.
13. I can help you put this knowledge to work by helping you book a fun, cost-effective cruise! (Can I beg a little more?) Click on that big ad over there on the right to get to my Website.



Get the Thursday Thirteen code here!


The purpose of the meme is to get to know everyone who participates a little bit better every Thursday. Visiting fellow Thirteeners is encouraged! If you participate, leave the link to your Thirteen in others comments. It's easy, and fun! Trackbacks, pings, comment links accepted!

View More Thursday Thirteen Participants