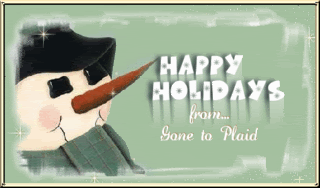 Welcome to my blog home and my holiday party, that runs from now through Monday! (Thank you Wystful, for the graphics, and GoofyGirl for the holiday decorations for my blog design!)

There are lots of fun holiday activities awaiting you, so here are the festivity "rules"!

1. After you leave a comment here, visit the person who commented before you. Read their post, and then leave them a virtual gift in their comments! It can be a button you make, it can be a url for something they may like, it can be a link to a holiday cartoon - anything you like! You guys are a creative bunch, I'm sure you'll far surpass my expectations. If you're first, leave a virtual gift here. :)

2. When you comment here, make sure to tell me your favorite Christmas/Holiday song. I'll make sure the DJ plays it! (My favorite is Rockin' Around the Christmas Tree.) If you'd like, you can "sing" it for us - virtual caroling!

3. Do you have a favorite holiday recipie? Would you like to share it? Post it in comments! Many of you have posted recipies on your blog, so you can link to it in comments.

4. There will also be a "white elephant" exchange going on. In comments, tell us about one of the WORST gifts you received. What may be a gift you don't like may be another's treasure. Maybe you'll find someone who'll take it off your hands :)

5. How are you going to fit all this in? Comment often! Come back and see how the party is progressing!


I know I am blessed beyond imagination, so I always use the holiday time to remember those who are less fortunate.

Toys for Tots is a good option, or choose your own charity!


Now, all this will leave you starved! So help yourself to some Christmas cookies, Chex mix, red and green M&Ms, baby quiches, Bagel Bites, spinach and artichoke dip, and gingerbread man cookies. (And yes, some treats for my feline - and canine - friends who stop by)
To drink, we've got hot apple cider, sparkling apple cider, Christmas punch (my mom has the BEST recipie for this) and egg nog with rum.
I also believe I promised a piture of my Christmas tree.