Does it surprise anyone that my jack-o-lantern face is insane?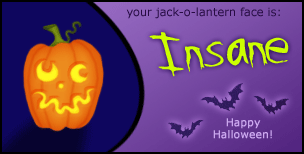 discover your jack-o-lantern face @ quiz me
CANDY CANDY CANDY CANDY CANDY CANDY CANDY CANDY CANDY
Everybody help yourself to some candy! Now there won't be any pranks on me, right? The thing is, I live on the 3rd floor, so no one comes to my door, which is fine by me, cuz then I don't have to buy candy!
Kailani
is having a costume contest, if you're interested. Starting Nov 1, you could head over and vote for me for best adult costume!
Last year, I was the queen of hearts (what did I do with that cape? I could wear it all the time and be the queen that I am!). A few years before that, I was a magic 8-ball. :) I was Buffy the year before that, and I still have the wooden stake!
And while there may be better pet costumes entered into the costume contest, I don't know if there are any more appropriate ones.
What will you be for Halloween?
Oh, and I entered a punkin in Leanne's
pumpkin carving contest
. I'm a'scairt of knives, so mine's not exactly "carved". But there are some really good ones entered!