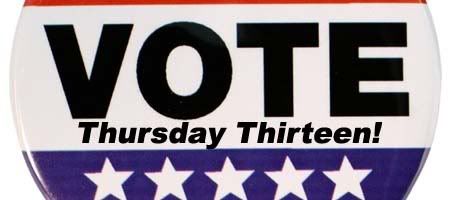 Thirteen Reasons (or Not) You Should Vote for Me if I Ran for Office
Tuesday is Election Day (GO VOTE!).
*****Oh, and REALLY go vote for me for best adult halloween costume (in post below) at Kailani's place. Pleeeeease? :)
PS: You have the right to disagree with me (isn't America great?), but not to be mean in my comments.
Being a Democracy isn't easy. Take free speech. You may not like what I say, and you have the right to disagree. But I still have the right to say it. That includes questioning our leaders without being called "unpatriotic." Questioning our leaders and speaking your mind is the most patriotic thing you can do. However, these freedoms require responsibility.
Changing the consitution to take away rights is wrong. If you want to define a word - like marriage - call Webster's on the phone. Everyone in VA is driving around with "Vote for Marriage (one man, one woman)" bumper stickers. I'd just like to vote for dating. Yes, please. Think they'll let me write that one in? :)
The flag is a symbol of our country. It's just a SYMBOL. If you want to burn it in protest, it may piss me off, but that's your right.
I believe in a woman's right to choose. However, I don't think is should be birth control. It wouldn't be my personal choice, but I don't think my beliefs apply to every woman in every situation (especially if a woman has been raped, and it's pretty hard to prove rape in court), and having never had to make that choice, I shouldn't take that choice away. I also don't think the abortion pill should be called that. It's emergency birth control. How is that different from regular old birth control?
I think it should be an URGENT economic policy to develop an alternative fuel to oil and have it mainstream in the next five years. Take THAT OPEC and Mr. President-Whose-Family-Makes-Their-Money-From-Oil!
I think the men and women who serve in the military should be celebrated and thanked daily. I also think that the war in Iraq is a mismanaged mistake of CF proportions. I can have these two beliefs at the same time. One is not exclusive of the other.
Our foreign policy should not be to play the bully. If the French disagree with us, we don't need to go rename french fries (which aren't French anyway). This is not the way to win friends and influence people. Other countries are starting to figure out that they can stand up to us - I'm of the opinion that is BECAUSE we're such bullies.
I think that this healthcare thing has gotten way out of hand. I just find it wrong that politicians can accept money from pharmaceutical (or any other special interest, really) lobby-ists. I mean, lobby your representative, but money influences too much.
Want to make money to pay for new roads in Northern Virginia? Tax cigarettes. These are LUXURY items. It costs $6 a pack of cigarettes in NYC. It costs $2 in Virginia. Phillip Morris can kiss my ass. Believe me. People will still buy the disgusting things, because they've purposely made them addictive.
ALL public places (restaurants, bars, etc) should be NON SMOKING. "Waaaah! But people won't come to our bars anymore!" Are you kidding? If DUBLIN can do it, anyplace can do it. NYC and LA have done it. If you lose anyone, you'll gain the same amount from people who don't frequent your establishment because they like to breathe without having to take a hit on their inhaler.
If you're paying $500 for a toilet seat, you should be fired. The government should have to shop at Costco like the rest of us. How can we operate in a DEFICIT? If I do that, I bounce a check and have to pay a fee. Somebody please call a debt counselor for these people.
English should be the national language in the US. French is the national language in France. Italian is the national language in Italy. I should not be asked IN SPANISH if I want English or Spanish at the ATM if I live in the United States. I also think that each American gradeschooler should have to take a second language, and that everyone should have to study abroad to know that there are other countries that exist and that the US isn't the center of the world.
Politicians should never be asked to vote on a pay raise for themselves. They should undergo a yearly evaluation from their constituants and get a performance-based increase just like the rest of us. Which amounts to about 2% of nothing. ;)
Links to other Thursday Thirteens! Other 13 participants only. But everyone feel free to leave a comment, too! Comments rock!





Get the Thursday Thirteen code here!

The purpose of the meme is to get to know everyone who participates a little bit better every Thursday. Visiting fellow Thirteeners is encouraged! If you participate, leave the link to your Thirteen in others comments. It's easy, and fun! Be sure to update your Thirteen with links that are left for you, as well! I will link to everyone who participates and leaves a link to their 13 things. Trackbacks, pings, comment links accepted!
View More Thursday Thirteen Participants






Tags:

Thursday Thirteen

,

Thursday 13

,

Meme

,