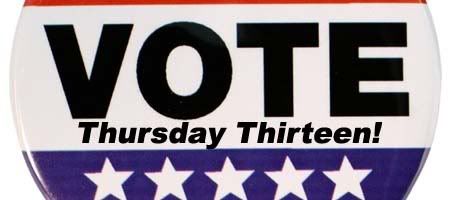 Thirteen Reasons EVERYONE needs to vote next week




Folks, this is not open season on anyone's political views - mine or any of my commenters. I, for one, think that what makes America strong is our diversity of opinions and our passions about them.

1. This may be the most pivotal election in your lifetime.
2. The economy is in the crapper. Clearly, somebody has to do something.
3. We are currently fighting two wars.
4. We just ran out of digit space on the National Debt Clock in Times Square.
5. My insurance company is charging me $10 per pill for my migraine meds, and they'll only give me 6 pills a month. Something is wrong with our system.
6. Even though the electoral system is stupid, your vote could be the swing for your state's votes to go to a candidate. So your vote does, indeed, count.
7. Yes, gas prices have fallen, but we're still lining the pockets of people that hate the U.S. We need to cut them off and cut ourselves off from oil dependence.
8. You should vote because I've made it to number 8 without sharing with you who I think can fix 1-7, I don't know how long I can hold out.
9. You need to vote because no matter what the polls say, this is a 50/50 race.
10. You can't bitch about things if you don't vote.
11. You should vote because it's one of the most patriotic things a regular citizen can do.
12. You must vote because there is a debate in this country about whether or not you are a "real American" if you don't believe a certain way, or live in a city rather than a small town. (Okay, I made it to number 12, I couldn't go anymore!) :)
13. You should vote because this country may be in more trouble if we have another 4 years that are anywhere near 90% like the last 8.



Get the Thursday Thirteen code here!


The purpose of the meme is to get to know everyone who participates a little bit better every Thursday. Visiting fellow Thirteeners is encouraged! If you participate, leave the link to your Thirteen in others comments. It's easy, and fun! Trackbacks, pings, comment links accepted!

View More Thursday Thirteen Participants