(Saturday photo hunt photo posted below)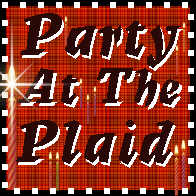 I'm having a blogwarming party all weekend long. I hope you'll join me for the fun and merriment. If you'd like to post the invite on your blog, the more the merrier! (Thanks
Reverberate
, for the blinkie!)
First, there's an open bar (suggested by
Kukka-Marie
) so help yourself, but be careful if you drink and blog! I'm also leaving out some snacks, in case you get the munchies. (
Kathy
and
Katherine
have offered to bring dishes)
Anthony
has suggested that we might do a comment roundhouse a-la Wendy's casting call (though we can never live up to that!)
Lazy Daisy
and
Karen
have suggested that commenters leave blogwarming gifts. (Karen says "we could all drop by and leave a gift- like a button or blinkie" and Lazy Daisy suggests "a green plant to give you more oxygen in your idiot free zone, peace of mind, cartoons...etc. or even food brought to the party") WHO DOESN'T LIKE GIFTS?
Here's how the blogwarming comments will work. From now until Sunday night, leave a comment here with your gifts, dishes, etc. The first person will go visit
Goofy Girl
after leaving a comment and tell her what a fantastic designer she is! The next person will go visit the person above, ad so on and so forth. Comment all you want! If you show your love to Goofy Girl in addition to attending my party, that would be EXTRA generous of you.
I'm sure I will love all your gifts and dishes, but whomever gives me my mostest favoritist gift will win a whole post where I pimp your blog and tell everyone how great you are!
Open bar:
We have beer, wine, vodka, tequilla, rum, and all the mixin's
Munchies:
Spinach and artichoke dip with tortilla chips, mini quiches, lemon squares, rice krispie treats and catnip for the felines, imported from Purrrsia. ;)
Present Table:
(where I put things other people are hosting on their blog. The rest of the gifts are in comments. I love them all!) Visit these folks to see my presents!
Buttons from:
Chi
Melli
Mysterious Lady
Karen
An "I heart Ducky" t-shirt from
Dorothy
A sculpture of
Kukka-Marie
from the empress
herself
.
A very nice blessing from
Wystful
!
I can't keep up! Will you forgive me?