I like to try to immerse myself in the local culture when I go on vacation, and in Greece, that means eating Greek food and drinking Greek drinks.
The Greek food I liked the best was mousakka. It's a bit like lasagne, but with eggplant.
The Greek drink I disliked the most was Ouzo. (The pic to the left is of a colorful ouzo bar in the Plaka.) It is served cold, has a bit of a cloudy look to it, and tastes like licorice. If you like licorice, then you may like this drink. If you don't, like me, it may not be the most pleasant experience ever. But when in Greece . . .
These are photos of me trying Ouzo at a restaurant called
Old Tavern Stamatopoulos
. The ouzo set us back 5 Euros (which now would be what, about $10?). We ate dinner here, lured by the Greek music. The music was good, the food was "eh".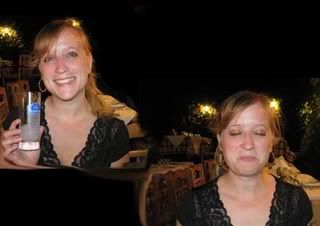 We tried some other restaurants in the Plaka - this is a pedestrian-only (and moped) area where shops are packed in side by side and restaurant peddlers stand in front of their establishment and try to lure you in. We were told not to fall for this, that if they have to peddle their wares the food wouldn't be so great. But, we were tired and hungry and the little old man was so, well, GREEK that we went in to the
Hani Restaurant
on Adrianiou Street. We got really lucky.
We took a seat inside (there's also outside seating) to take advantage of the a/c, but requested the window seat, so we could still sort of be outside and people watch. The little old Greek man even took our picture. I ordered my safe chicken, and the BF ordered roast beef. When the food arrived, we took a look at each others' plate and decided to switch. That beef was probably one of the top 2 meals I had in Greece, and among the least expensive (each meal was about 7 or 8 Euros.)

I hope you all have a great weekend, with your drink and food of choice! :)